Turnkey solutions
The Lastro Engineering GmbH supports you from the
beginning of a new project in order to find the best and
most convenient solution for your needs. Hereby, unwanted
costs and delays due to subsequent planning and refitting
can be avoided. If required, the team of Lastro Engineering
will also conduct installations – accurately and
on time all over in the world.
Customized services
The Lastro Engineering GmbH team offers advice and planning services according to your needs and budget. We provide support in planning the studio and/ or stage facilities, in selecting the right products and may conduct the entire installation. Complying with your request, we support you either throughout the entire process or only in precisely the points where you want professional help. In any case, it is recommended to consult the team of Lastro Engineering at an early stage of your project. Particularly in the case of a new development we hereby might create optimal conditions for the studio and stage equipment and thus save time and money.
+++ Consulting +++ Engineering +++ Manufacturing +++ Installation +++ Service +++
Here you can get more about our products and services!
Please visit also the website of
MTS Media Technical System: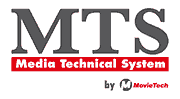 Pantographs – Hoists – Telescopes – Drives